Blog
Arty Bollocks Generator
A little thing I made last year has been discovered by the world over the weekend. I think the term is viral - it's flattering, but also a bit strange actually.
About a year ago I read about the 10k competition by An Event Apart where the brief was to develop a web app using current web technologies (HTML5, CSS3, JavaScript), all squeezed into no more than 10Kb. I quite like a little challenge every now and then, and this seemed like the perfect one.
After a bit of brainstorming the idea came up to create an Arty Bollocks Generator. I have to confess here that I am not the brains behind the words of this thing. That's all down to the skill and mastery of David James Ross, who has a way with words that I don't possess.
And so we set about creating the generator. David went of thinking up some "credible" artist statement combinations and I coded up the necessary JavaScript to make it work. All brought together in some new fangled (at the time) HTML5. It was my first attempt to create an HTML5 website, and I had a lot of help from HTML5 for Web Designers by Jeremy Keith published by A Book Apart.
Anyway, the Arty Bollocks Generator was thought out, build, designed and developed and submitted to the competition. We had some positive comments and it felt like a nice interlude in between the commercial work.
I don't know how it happened but it seems that last week the Arty Bollocks Generator was found online and has since begun a whirlwind tour of the web. It's been great to see the appreciation from so many people.
We always felt that the generator has more scope to it, and the plan was to develop it a little further, but with all this attention we've brought it forward. So now the Arty Bollocks Generator has it's own domain. It looks mostly the same, but this time I used another book by A Book Apart, the brand new Responsive Web Design by Ethan Marcotte, to guide me through the build to make the design responsive.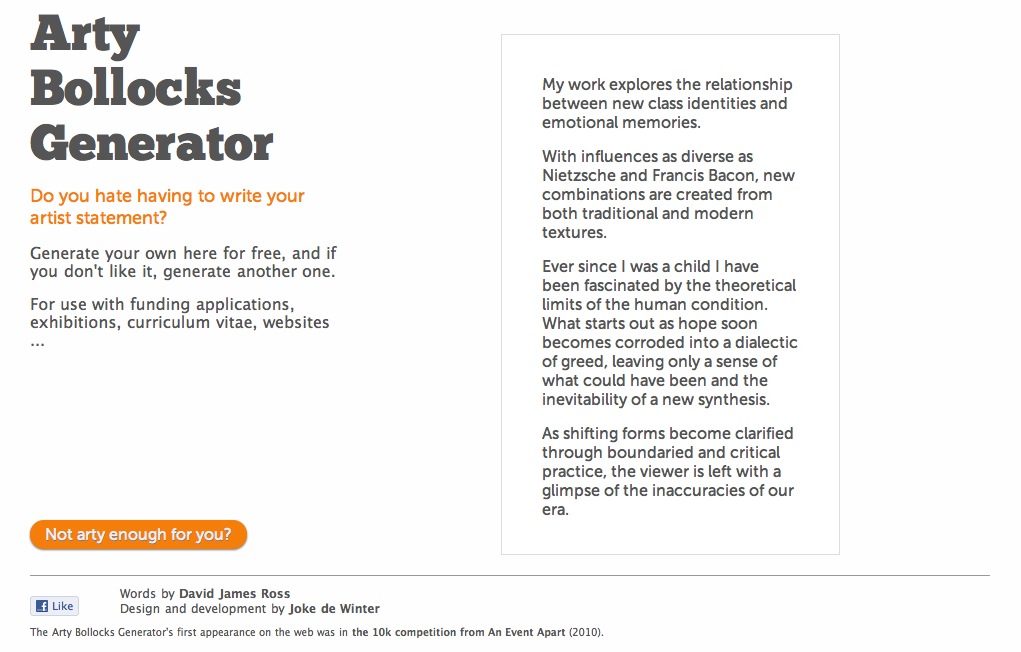 So there you go, how something you do in your spare time for fun ends up going round the world like wildfire. I would like to extend a heartfelt thanks to everyone who's looked, enjoyed and tweeted about it: Thank you. It's inspiring me to do more stuff for fun.